Stroling magician - table magician - stage magician
Shane Sterling is one of the top magician's in the UK today.
His magic has been appreciated worldwide and is a favorite among top companies such as Microsoft,Google and Sony to name a few.
Shane was also asked to entertain at the music industry artist awards where Sir Elton John in attendance and received his lifetime achievement award.
Shane is one of only a select few magicians who has been chosen to perform for the Royal Family not once but on several Occasions along side singing sensation Ellie Goulding, and is the only Magician to receive a quote from HRH Prince Harry. 
Be assured when you book Shane you will be getting a professional service First class Entertainment, Cutting edge slight of hand and memories that will last long after the event is over.. 
Shane is based in oxford on the border between oxfordshire and Buckinghamshire &  Performs his close up magic all across the UK and is available worldwide. BOOK Shane today and guarantee your event will be a complete success 
You're in Great Company Shane's clients include.















Hire Magician in my area / Hire magician near me / Wedding magician / Corporate magician / Stage magician / Wedding host / Oxford magicain
What to consider when you hire a magician
When you hire a magician it can sometimes be a confusing time. a magician in today's world are called many things the most common names are as follows: close up magician, walk around magician, Table magician, Stage magician, Mix and mingle magic, Illusionist, Escape artist, Mentalist, Visual artist, Wedding Emcee.
 As you can see there are many names for what is essentially the same thing. 
A magician in your area or one you have booked for your corporate event or to host your wedding and is a full time professional will have mastered at least one of the above.
To make life a little easier anytime you need to hire a magician walking around mixing with your guests whether it be from table to table at a wedding for example or a cocktail reception at a corporate event, you will need a close up magician IE Table magic/close up magic/mix & mingle magic/strolling magician/walk around magic like mentioned earlier in this paragraph. 
All these names are one in the same thing, please use the contact page to hire a magician not just any magician you can hire Shane sterling one of the UK's best close up magicians. Please check his availability to perform the award winning close up magic at your next event.
Shane Performs worldwide and is based in Oxford and can often be seen entertaining in London / reading and the surrounding areas. Shane also has his own show in the prestigious 5 star hotel in oxford where it runs on a monthly basis 
Keep in mind that the MAGICIAN you hire will been seen by all of your guests you want your event to be


The say a picture paints a Thousand words.
a Quick 60 second promotional video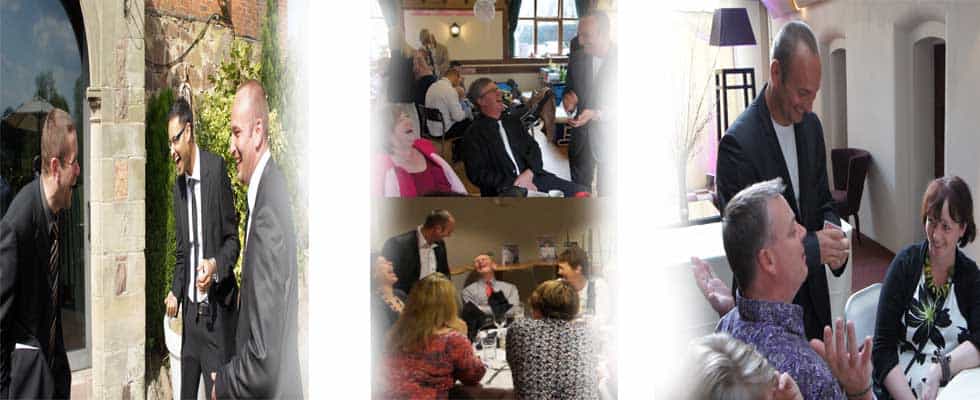 1. hire a Professional magician or hobbyist?
The word professional is used by all magicians these days in the hope they will get a booking i do not consider anyone a professional if it is not their main job IE the job that puts food on the table and pays the bills.
you should always check the Oxford magician you are about to hire is a full time professional magician and not a hobbyist while the hobbyist magician will be much cheaper there is a reason for that maybe the person is not dependable or his act is not up to the standard of a full time professional magician, you only get what you pay for and this could not be more true when you hire a magician.
2. Budget when you hire a magician in your area
Like most things in life you only get what you pay for and that is mostly true where an entertainer is concerned and prices can vary greatly.
If you have been quoted a very low price this can reflect the performance ability confidence,dependability and experience of the magician, and entertaining at a high level if you decide to hire the lowest price magician cause of the budget then you will be taking a big risk.
Myself and a few of my magician friends do get enquirys as they have been let down at the last minute if they are very cheap then there is a reason for it.
3.how much does a magician cost to hire
This most common question how much does a magician cost to hire? it is also the most difficult to answer.
Every booking is different and there are a lot of factors to consider before a fair competitive and accurate price can be given factors such as performance time,date,Location and type of act for example if you book me on one of these days Monday Tuesday Wednesday my fee will be 15% cheaper should you event fall on a weakened, asking how much does a magician cost or magician prices is a bit like asking how much is a train ticket to?
HOWEVER I DO OFFER A PRICE MATCH GUARANTEE t&Cs apply.
Shane Sterling Magic oxford Oxfordshire
Phone: 07411 001382